Every Skin Tells a Story.
What's Yours?
Since 1976, we have journeyed with the everyday women seeking radiant, smooth & firm skins to regain her skin confidence.
Mona's Story
My Skin Journey at Mid 30s
COMBINATION
Multi-Skin Concerns
Persistent Oiliness, congestion, dehydration, uneven skintone, tight & uncomfortable
Tired & fatigued skin
Other signs of aging
"I have no more breakouts & really get a power beauty nap here. And every time I got up, my skin will be so clear."
When I first came, my skin was horrible. I have a lot of breakouts, I had dry skin, oily and combination skin. Having seen many skin doctors, different beauty salons and medication to control my oil glands yet they cannot resolve my problem. In a short span of 6 months, I see so much improvements in my skin. There is no more breakouts.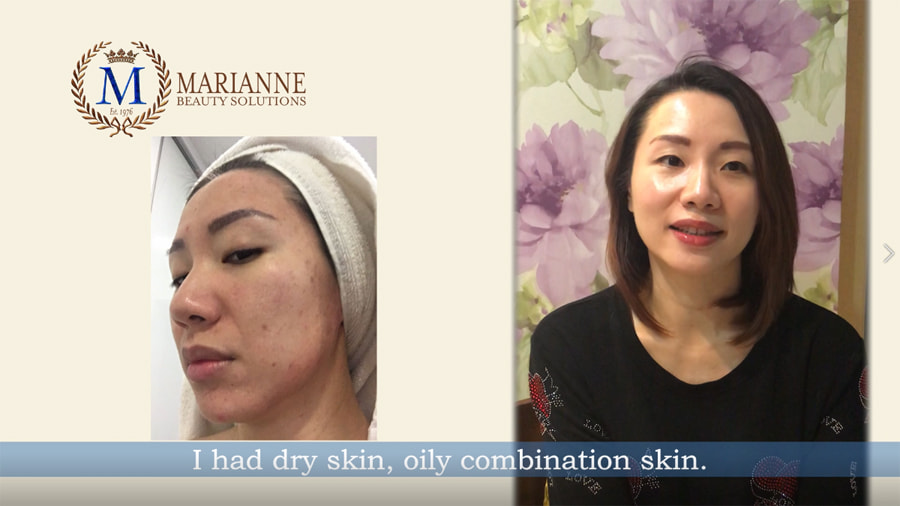 Regina's Story
My Skin Journey from Late 20s to 60s
ANTIAGING
Multi-Skin Concerns
Dryness, dullness, loss of hydration, skin firmness, anti-wrinkle, pigmentation
Other hormonal changes
"Regular since 1986 over the last 35 years because they give my Skin Confidence."
I am 67 years old this year and many people mistaken me to be 10 years than my actual age. I enjoy their antiaging treatments which works because my skin remains firm, lifted and radiant.
My hormonal pigmentation has reduced greatly with their professional care. Am grateful to two generations of Marianne Beauty Solutions for their dedication in looking after me all these years.
Vivian's Story
My Skin Journey at Early 40s
DULLNESS & LOSS OF FIRMNESS
Multi-Skin Concerns
Loss of radiance, Uneven skin tone color, Persistent Dehydration, Reduced firmness of skin
Loss of face contour/shape, Anti-wrinkles
Other signs of aging
Sharmaine N's Story
My Skin Journey at Early 20s to Current 30s
"Regained skin confidence from persistent acne in my teens to 20s"
I first stepped into MB in my early 20s when my acne was causing me to lose my confidence. I took a leap of faith because I have no recommendation from anyone on whether MB was any good or whether they were out to dupe me. 10 years on, I'm still going back there for facials, skincare products and treatments because the owner Julie and her team understands my skin and I've seen results.
It's not easy trusting a beauty salon but the team has shown that they are committed to providing quality care. This is not a sponsored post but rather to share my experience and to give a shoutout to this nondescript salon in the heartlands that have helped me so much over the years. Thank you, Julie :)
Wai Mun S.'s Story
My Skin Journey from Mid 30s to Early 50s
"My skin's collagen is well looked after."
Been coming here for facials since the 1990s. Friendly and attentive staff + owner. Friendly and attentive staff + owner. Great service and excellent quality products. You can be sure that you will be well pampered and taken care of!
Li Ping T.'s Story
My Skin Journey at Early 30s
"My Skin is doing so well since coming here 3 years ago"
Very firm, supple all these years and has not aged much. Have been a regular for 3+ years.. Julie and her team always recommend the best treatments for my skin and painstakingly explain every step as well. My face continues to be very firm and supple all these years and has not aged much. Really like their non-invasive facials/treatments. :)
Elizabeth C.'s Story
My Skin Journey at Mid 30s
"Dewy and fair skin results with their Antioxidant series"
I enjoy their facial services, they're very professional. They have great products, especially their antioxidant series, which showed clear results on my skin! My skin is very dewy and fair after visiting them. I can go out without make up too!
Shirley C.'s story
My Skin Journey at Late 30s
"Regained my skin confidence in 5 sessions"
From dull uneven color, easily congested to clear, soft, radiant & firmer skin. Running a household with busy schedule as I have three growing kids, my skin has suffered from neglect & stress over the last 20 years.
My husband recommended me to Marianne Beauty Solutions as he heard of their dedicated care. Within 5 short sessions, I saw a BIG difference in my skin and results beyond my expectations. It really boosted my skin confidence and reminded me that I can be beautiful and enjoy results too.
Am grateful for the relaxing and enjoyable care given by the team at Marianne Beauty Solutions given to me at every session. And their cleanliness, hygiene and service is beyond normal standards.
Geraldine W.'s Story
My Skin Journey at Early 40s
"Would highly recommend to anyone with persistent skin concerns"
Recently, I had a slight allergic reaction to a cream that someone gave me and asked my therapist to tame it down. She did a really great job during my session.
In 2018, I was first curious about Marianne Beauty Solutions when I saw a friend's skin improvement in a short period of time. So I paid them a visit and they have been looking after my skin since then.
They are truly an exceptional facial treatment centre. They are extremely experienced, and their passion in skincare shows through their care and concern and also vast knowledge in different treatment options for different skin conditions.
They are very experienced in treating all kinds of concerns you may have, such as skin lifting, acne, pigmentation issues etc. It is a holistic approach and you can be assured that it is with very sincere intentions to help you enjoy more beautiful skin and renewal of youth. I would highly recommend anyone with persistent skin concerns to visit them and receive great solid treatment! Yes. It also helps that their facial massages are really good.
Linda N.'s Story
My Skin Journey at Early 40s
"Saw a marked improvement in my skin"
This place came recommended by a good friend. I was skeptical at first as I am generally not a big believer of facials or beauty products. But having given it a try, I saw a marked improvement in my skin situation of radiance, supple and softer skin from enlarged pores, skin dryness and loss of skin elasticity.
Vivian K.'s Story
My Skin Journey at Early 40s
"Well rested and recharged my skin with renewed radiance "
The team there are very pleasant and most importantly they recommend treatments that are personalized to my skin's need. Products used are authentic and of good quality too. My skin has improved a lot with their care.